New research points to treatment breakthrough for viruses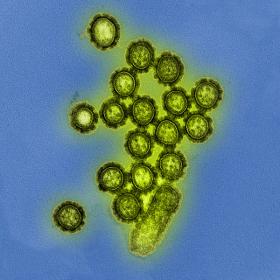 RMIT scientists in Melbourne have led an international collaboration that potentially unlocks better treatment of viral diseases, including the flu and common cold.
The results are published today in the prestigious scientific and medical journal Nature Communications.
Each year the flu virus sends 13,500 Australians to hospital and causes more than 3000 deaths among those aged over 50.
The global burden is also staggering, with more than 5 million cases of infection annually with up to 10 per cent resulting in death.
Read more at RMIT University
Photo credit: National Institutes of Health (NIH) via Wikimedia Commons