Huge Antarctic iceberg finally breaks free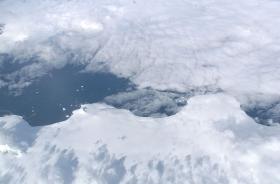 After months of 'hanging by a thread' a vast iceberg the size of Norfolk has finally broken off Antarctica's Larsen C Ice Shelf. Around 30 metres of this 190m thick block of ice sits above the sea surface.
Scientists now have opportunities to study the stability of the remaining ice shelf, as well as understanding how new biological communities might occupy the newly exposed ocean and underlying seabed areas.
At more than 6,000 km² in area, the new iceberg represents more than 10% of the ice shelf. This calving is dramatic but normal in the life cycle of an ice shelf. However, scientists will be looking to determine if loss of the iceberg will have any impact on the stability of the remaining ice shelf.
Throughout the Antarctic winter research teams, led by the University of Swansea and including researchers from British Antarctic Survey (BAS), monitored the progress of a 170 km long ice rift in the ice shelf using the European Space Agency (ESA) Copernicus Sentinel-1 satellites.
Read more at British Antarctic Survey
Photo credit: Jim Ross, NASA via Wikimedia Commons