France Will Ditch Gas and Diesel Cars by 2040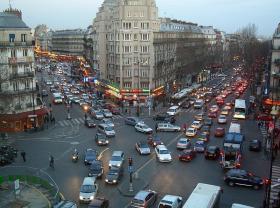 Parisian streets will be a little quieter in 2040, the year France has set as a target for getting gas and diesel cars off the road. French officials are speaking out on the need to commit to environmental health, and this initiative accompanies other programs aimed at reducing the country's carbon emissions.
The announcement was well-timed, designed to coincide with the G20 meeting, where European leaders confronted U.S. President Donald Trump over his stated intent to pull out of the Paris Agreement.
As France demands more electric, hydrogen and other green vehicles on the road, popular automakers are resolving to produce more of them. Volvo aims to have an all-electric fleet by 2019, and France's PSA Group committed to increase electric representation in its ranks.
Read more at Care2
Photo credit: daxtell via Wikimedia Commons