Severe weather model predicted tornado's path hours before it formed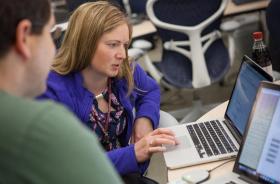 As severe weather brewed in the Texas panhandle late in the afternoon of May 16, NOAA's National Weather Service forecasters alerted residents in parts of western Oklahoma about the potential for large hail and damaging tornadoes that evening, particularly in the area around Elk City.
Ninety minutes later, a dangerous, rain-wrapped EF2 tornado struck the small town. It killed one, injured eight and destroyed about 200 homes and more than 30 businesses.
Normally, meteorologists issue warnings based on radar depictions or spotter reports. By then, a tornado could be minutes from touching down.
This time, the NWS issued an additional advisory for parts of four counties in southwest Oklahoma stating "...a high probability that tornado warnings will be issued." This unusual step was prompted by output from an experimental forecast model.
Introducing the "Warn on Forecast"
Forecasters that day were working with researchers from NOAA's National Severe Storms Laboratory testing the Warn-on-Forecast system that can predict the likelihood of extreme weather at specific locations up to three hours in advance.
Read more at National Oceanic and Atmospheric Administration (NOAA)
Image: Terra Ladwig, a scientist with NOAA's Global Systems Division in Boulder Colo., evaluates a forecast in the National Severe Storms Lab Hazardous Weather Test Bed in Norman, Okla. as part of a collaborative research effort to improve severe weather forecasts. Credit: NOAA