Early Squirrel Gets the Real Estate, University of Guelph Study Finds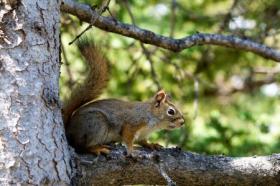 Those young squirrels now scampering around your neighbourhood were born in this year's earliest litters and are more likely to survive than squirrels born later and still curled up in their nests, according to a new University of Guelph study.
That's because when it comes to survival in the squirrel world, the first out of the nest is best, said David Fisher, a post-doctoral researcher and lead author of the study conducted on squirrels in Yukon.
"We found being born earlier than the other litters in your neighbourhood was a key factor in survival," said Fisher, who worked on the study with U of G integrative biology professor Andrew McAdam. "This is because if you are born before your neighbours, you can leave your nest first and find a vacant spot to store your food for the winter."
Published recently in the international journal Evolution, the study examined what traits are most important for the survival of North American red squirrels. The researchers compared birth dates and growth rates of individual young squirrels living in the same area with those of young living outside the social neighbourhood.
Continue reading at University of Guelph.
Photo via University of Guelph.