Soil filters out some emerging contaminants before reaching groundwater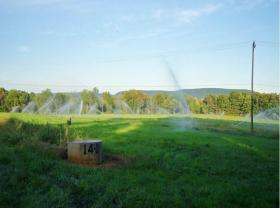 There is considerable uncertainty surrounding emerging contaminants in aquatic ecosystems and groundwater, and a recent Penn State study of compounds from pharmaceuticals and personal care products didn't add much clarity. But it did provide insight into the transport of the chemicals, according to researchers in the College of Agricultural Sciences.
The research, which was conducted at the Penn State Wastewater Treatment plant and the University's Living Filter, analyzed the fate of seven emerging contaminants: acetaminophen, ampicillin, caffeine, naproxen, ofloxacin, sulfamethoxazole and trimethoprim.
The study's goal was to track these compounds through the wastewater treatment plant and ultimately to the wells at the Living Filter to assess the removal efficiency of the plant and the ability of the Living Filter's soil profile to provide further treatment of the compounds that persisted in the effluent.
Once a week from October 2016 to March of this year, 24-hour composite samples were collected after each treatment process through the plant. Water samples were collected monthly from 14 groundwater wells at the Living Filter. The findings of the research -- while by no means conclusive -- were thought provoking and useful, according to Heather Gall, assistant professor of agricultural and biological engineering.
Read more at Penn State
Image: Penn State was the ideal place to look at the movement of pharmaceuticals from wastewater to groundwater because the University has spray-irrigated all of its treated wastewater onto nearly 600 acres of agricultural and forested land known as the Living Filter since the early 1980s. (Credit: Penn State)