Treated hydraulic fracturing wastewater may pollute area water sources for years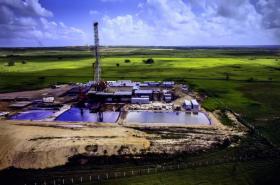 Given Pennsylvania's abundant natural resources, it's no surprise that the Commonwealth has become a mecca for hydraulic fracturing. Researchers, however, have recently discovered that releasing millions of gallons of treated hydraulic fracturing wastewater each year into area surface waters may have longer-lasting effects than originally thought.
According to the U.S. Energy Information Administration, hydraulic fracturing accounted for more than one-half of U.S. oil production and two-thirds of U.S. gas production in 2015. That percentage is expected to rise as more states begin to adopt the practice. Although studies show that hydraulic fracturing does produce less greenhouse emissions than older technologies like coal, it does come with other environmental concerns. At the top of that list is the wastewater it produces, which contains a multitude of potentially hazardous contaminants. In 2015 alone, Pennsylvania's unconventional gas wells produced nearly 1.7 billion gallons of wastewater. While there are facilities dedicated to treating the wastewater before its release, they provide only limited treatment, leaving many of the pollutants intact.
To gain a better understanding of the impact of these contaminants on the environment, Penn State environmental engineering professor Bill Burgos and his colleagues studied sediment samples collected from a reservoir in western Pennsylvania. The study was published in the most recent issue of Environmental Science & Technology.
Read more at Penn State
Image: According to the US Energy Information Administration, hydraulic fracturing accounted for more than one-half of US oil production and two-thirds of US gas production in 2015. That percentage is expected to rise as more states begin to adopt the practice. (Credit: Penn State)