Satellite Shows a Weaker Hurricane Fernanda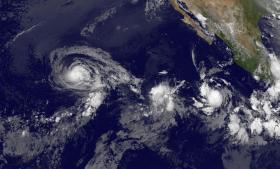 Hurricane Fernanda appears to be weakening on infrared satellite imagery. NOAA's GOES-West satellite imagery on July 19 showed a more disorganized hurricane nearing the Central Pacific Ocean.
NOAA's GOES-West satellite captured an infrared image of Hurricane Fernanda on July 19 at 8 a.m. EDT (1200 UTC). The National Hurricane Center noted that Fernanda's convective cloud pattern has continued to wither, and has been accompanied by a general warming of the cloud tops.
In the image, created by the NASA/NOAA GOES Project at NASA's Goddard Space Flight Center in Greenbelt, Maryland, an area of strong thunderstorms still surrounded the center of circulation, but no eye was visible.
Read more at NASA / Goddard Space Flight Center
Image: NOAA's GOES-West satellite captured this infrared image of Hurricane Fernanda (left) followed by Tropical Depression 8E (center) and Tropical Storm Greg (right) in the Eastern Pacific Ocean on July 19 at 8 a.m. EDT (1200 UTC). (Credit: NASA/NOAA GOES Project)