Heritage and ancient grain project feeds a growing demand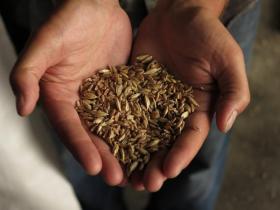 After a century of markets dominated by a few types of wheat and white flour, ancient and heritage wheat varieties are making a comeback.
Restaurants and bakeries that promote organic and local agriculture have sprouted up across the country in the last decade, meeting a rising consumer demand for tasty and nutritious foods that support an ethic of sustainability.
In the Northeast, for example, Gramercy Tavern in Manhattan serves local and seasonal dishes. Its rotating menu offers "roasted beets and kale salad with einkorn and candied pistachio" and "sea urchin risotto with ancient grains and ruby red shrimp." The artisanal Wide Awake Bakeryin Mecklenburg, New York, offers sourdough breads made from a variety of unconventional grains, largely sourced from its partner, Oechsner Farms, in Newfield, New York.
Marketing and economic analyses by Cornell researchers show that the demand for these unusual grains outstrips supply, and food lovers are willing to pay more for bread, pasta and baked goods made from them.
Read more at Cornell University
Image: This is emmer grain from field trials at Cornell. (Credit: June Russell, GrowNYC's Greenmarket Program)