GOES Satellite Sees Tropical Depression 09E Form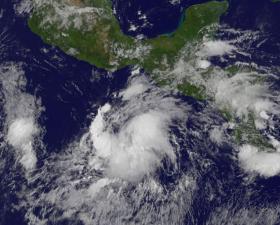 The Eastern Pacific Ocean has been recently generating a lot of tropical cyclones. Tropical Depression 09E just formed off the southern coast of Mexico and was captured in imagery from NOAA's GOES-East satellite.
Tropical Storm Fernanda has moved into the Central Pacific Ocean, while Tropical Storm Greg, which just absorbed the remnants of Tropical Depression 8E continues to strengthen in the Eastern Pacific.
NOAA's GOES-East satellite captured an infrared image of Tropical Depression 09E on Friday, July 21, 2017, at 10:45 a.m. EDT (1445 UTC). The image showed bands of thunderstorms wrapping into the low-level center from the east and northwestern quadrants of the newly formed storm.
Read more at NASA / Goddard Space Flight Center
Image: NOAA's GOES-West satellite captured a visible image of Tropical Depression 09E on July 21, 2017, at 8 a.m. EDT (1200 UTC). Credits: NASA / NOAA GOES Project