Researchers Find Corn Gene Conferring Resistance to Multiple Plant Leaf Diseases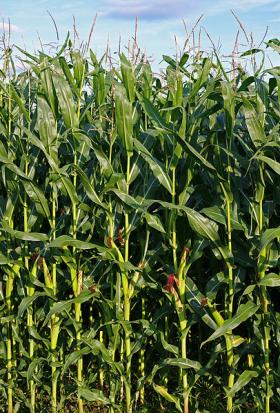 Researchers at North Carolina State University have found a specific gene in corn that appears to be associated with resistance to two and possibly three different plant leaf diseases.
In a paper published this week in Nature Genetics, NC State researchers pinpoint the gene – caffeoyl-CoA O-methyltransferase – that seems to confer partial resistance to Southern leaf blight and gray leaf spot, and possibly to Northern leaf blight, a trio of diseases that cripple corn plants worldwide.
Finding out more about the mechanisms behind complex traits like disease resistance has the potential to help plant breeders build the best traits into tomorrow's corn plants, says paper corresponding author Peter Balint-Kurti, a research plant pathologist and geneticist for the U.S. Department of Agriculture-Agriculture Research Service (USDA-ARS) who is housed at NC State.
Balint-Kurti's group and colleagues identified several regions of the genome where genetic variation had a significant effect on variation in resistance to multiple diseases.
Read more at North Carolina State University
Photo credit: Christian Fischer via Wikimedia Commons