New vaccine production could improve flu shot accuracy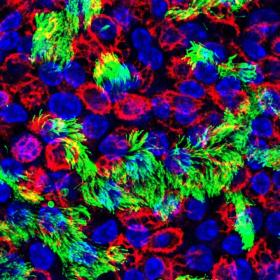 A new way of producing the seasonal flu vaccine could speed up the process and provide better protection against infection.
For decades, vaccine manufacturers have used chicken eggs to grow the flu virus strains included in the seasonal flu shot. But because these human strains frequently mutate to adapt to their new environment in eggs, the resulting vaccine is often an imperfect match to the actual virus that it is supposed to protect against.
Duke researchers have devised a way to keep the human influenza virus from mutating during production, generating a perfect match to the target vaccine in a shorter time frame. Their findings appear in the journal mBio.
"We have solved a fundamental problem that scientists had accepted would be part of vaccine production -- that the virus is always going to mutate if it is grown in eggs," said senior study author Nicholas S. Heaton, Ph.D., assistant professor of molecular genetics and microbiology at Duke University School of Medicine. "This research could lead to a significantly cheaper and more efficacious vaccine."
Read more at Duke University
Image: Cells of the upper respiratory tract are where influenza virus infection occurs. Red marks basal cells, green marks ciliated cells, and blue marks cell nuclei. (Credit: Rebekah Dumm, Duke University)