NASA-NOAA's Suomi NPP Satellite Sees Hilary on Verge of Major Hurricane Status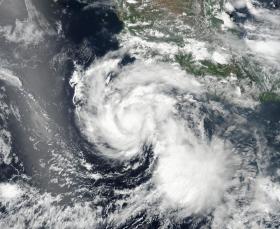 NASA-NOAA's Suomi NPP satellite captured an image of Hurricane Hilary as it continued to strengthen. The National Hurricane Center expects Hilary to become a major hurricane on July 27.
Hilary is one of three active tropical cyclones in the Eastern Pacific Ocean, and the closest storm to any land area. When the Suomi-NPP satellite passed overhead, it provided an image of the tropical cyclone train of storms. Tropical Storm Greg lies farthest west, followed by Hurricane Irwin and farthest east lies Hurricane Hilary.
On July 24, 2017 at 6:12 p.m. EDT (2212 UTC) the Visible Infrared Imaging Radiometer Suite (VIIRS) instrument aboard NASA-NOAA's Suomi NPP satellite provided a visible-light image of Hurricane Hilary. The VIIRS image showed a compact hurricane with a tight band of powerful thunderstorms circling the low-level center of circulation. There was also a large band of powerful thunderstorms wrapping into the center from the southwestern quadrant.
On July 27 at 5 a.m. EDT, National Hurricane Center forecaster Richard Pasch noted "Hilary's compact, symmetric, inner core continues to become better defined on satellite imagery. Microwave imagery suggests that the eye is quite small, less than 10 nautical miles in diameter, with little evidence of vertical tilt of the vortex."
Read more at NASA/Goddard Space Flight Center
Image: NASA-NOAA's Suomi NPP satellite captured this visible image of compact Hurricane Hilary on July 24, 2017 at 6:12 p.m. EDT (2212 UTC). Hilary is located off the southwestern coast of Mexico in the eastern Pacific Ocean. (Credit: NOAA/NASA Goddard Rapid Response Team)