How physical activity changes with the seasons — and how that affects a person's health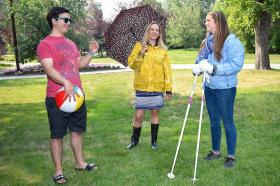 These hot summer days may prompt you to cut back on outdoor activity – just as cold weather during the winter can be a reason to sit on your sofa.
A research team at the University of Regina, led by Dr. Katya Herman, Assistant Professor in the Faculty of Kinesiology and Health Studies, is looking into how the seasons affect physical activity.
Herman says in Saskatchewan there is a higher-than-average obesity prevalence compared to other Canadian provinces.
"One hypothesis is that the temperature extremes, especially the cold winters, may influence physical activity levels. Specifically, the more variable climate may be more likely to produce inconsistent physical activity patterns, compared to more moderate climates such as in British Columbia," she says.
Continue reading at University of Regina.
Photo via University of Regina.