Scientists develop new supplement that can repair, rejuvenate muscles in older adults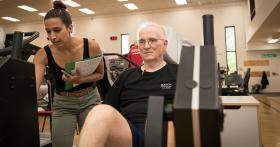 Whey protein supplements aren't just for gym buffs according to new research from McMaster University. When taken on a regular basis, a combination of these and other ingredients in a ready-to-drink formula have been found to greatly improve the physical strength of a growing cohort: senior citizens.
The deterioration of muscle mass and strength that is a normal part of aging –known as sarcopenia—can increase the risk for falls, metabolic disorders and the need for assisted living, say researchers.
"Older people who do little to prevent the progression of sarcopenia drift toward a state where they find activities of daily living, like rising from a chair or ascending stairs very difficult or maybe impossible," says lead scientist Stuart Phillips, professor in the Department of Kinesiology and member of McMaster's Institute for Research on Aging.
While a number of isolated nutritional ingredients have been shown to fight sarcopenia, this is the first time such ingredients – which include whey protein, creatine, vitamin D, calcium and fish oil – have been combined and tested for this purpose.
Continue reading at McMaster University.
Photo via McMaster University.