Glowing Tumor Technology Helps Surgeons Remove Hidden Cancer Cells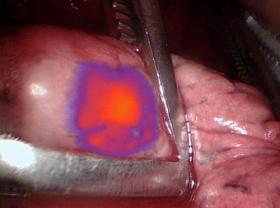 Surgeons were able to identify and remove a greater number of cancerous nodules from lung cancer patients when combining intraoperative molecular imaging (IMI) – through the use of a contrast agent that makes tumor cells glow during surgery – with preoperative positron emission tomography (PET) scans. The study from the Abramson Cancer Center at the University of Pennsylvania (ACC) is the first to show how effective the combination of IMI with the tumor-glowing agent can be when combined with traditional PET imaging. Researchers published their findings today in Annals of Surgery.
"Surgically removing tumors still leads to the best outcomes in cancer patients, and this study shows intraoperative molecular imaging can improve the surgeries themselves," said the study's lead author Jarrod D. Predina, MD, MS, a post-doctoral research fellow in the Thoracic Surgery Research Laboratory and the ACC's Center for Precision Surgery. "The more we can improve surgeries, the better the outcomes for these patients will be."
Pulmonary nodules are small growths in the lung. Doctors discover them in about 250,000 Americans each year. In 80,000 of those patients, the nodules are suspicious enough to warrant surgery. PET scans are standard before these procedures, and studies have shown they can detect malignancies in the nodules 90 percent of the time. But research has also shown these scans have limitations. They can't usually show tumors smaller than a centimeter. They also can't distinguish between cancerous growths and benign inflammatory diseases like infections. And importantly, scans taken before surgery don't give surgeons real-time guidance once the procedure begins.
Image: Cancer cells glow during surgery. (Credit: Penn Medicine)