NASA Catches Formation of Tropical Depression 13W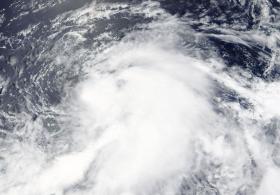 The thirteenth tropical cyclone of the northwestern Pacific Ocean typhoon season has formed and NASA's Terra satellite obtained a visible-light image of the storm revealing that it's already battling wind shear.
On Aug. 1 the Moderate Resolution Imaging Spectroradiometer or MODIS instrument aboard NASA's Terra satellite captured a visible-light image of newly formed Tropical Depression 13W in the Northwestern Pacific Ocean. The storm appeared to be affected by vertical wind shear as a large area of clouds and showers were southeast of the center.
Read more at National Aeronautics and Space Administration (NASA)
Image: On Aug. 1 the Moderate Resolution Imaging Spectroradiometer or MODIS instrument aboard NASA's Terra satellite captured a visible-light image of newly formed Tropical Depression 13W in the Northwestern Pacific Ocean. Credits: NASA Goddard MODIS Rapid Response Team