Science faculty researchers develop new way to measure fluid-rock interaction in oil reservoir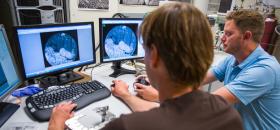 University of Calgary geoscientists have developed new technology that measures, at an extremely fine scale, the interaction between water and other fluids and rock from an unconventional oil reservoir.
Faculty of Science researchers used their micro-injection system coupled with live imaging to precisely measure fluid-rock interaction, called "wettability," at the microscopic, or micro-scale, for the first time.
"We also showed that significant micro-scale variability in wettability occurs, as measured by the contact angles of oil and water micro-droplets with the rock's surface. This variability depends on the composition of the substrate (rock)," says Chris Clarkson, professor in the Department of Geoscience, and Alberta Innovates Technology Futures/Shell/Encana chair in unconventional gas and light oil research.
The research increases understanding of how wettability varies in oil reservoirs, which will help to optimize hydrocarbon recovery processes and could lead to new methods for extracting unconventional oil and gas. The team's study, "Live Imaging of Micro-Wettability Experiments Performed for Low-Permeability Oil Reservoirs," is published in Scientific Reports, a journal in the top-ranked Nature series.
Continue reading at University of Calgary.
Photo via University of Calgary.