Alkaline Soil, Sensible Sensor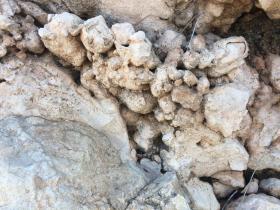 Producers sometimes face challenges that go deep into the soil. They need answers to help the soil, on site. A portable field sensor can accurately measure minerals in soils more easily and efficiently than existing methods. And a research team, including a middle school student and her scientist father, can confirm it.
Calcium, like other minerals, is necessary for healthy plant growth. However, an excess of calcium — particularly in the form of calcium carbonate — can cause issues as it builds up in the soil.
"Calcium carbonate is basically a type of salt. It dissolves in water after a rainfall event and moves down through the soil," explains David Weindorf. Weindorf is at the Department of Plant and Soil Science at Texas Tech University.
One main source of this calcium is limestone. At low levels, it makes thin threads or small white masses in the soil. However, in extreme cases it can actually take over the entire subsoil. Its hard surface can limit the ability of plant roots to grow. Getting this information on-the-fly is important for growers and soil scientists solving problems in the field.
Read more at Soil Science Society of America
Image: Extensive calcium carbonate accumulation engulfs this soil layer, making it difficult for plant roots to break through. (Credit: David C. Weindorf.)