A clean future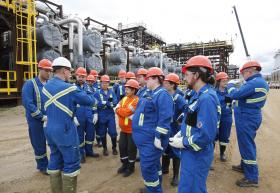 A Métis student in the University of Saskatchewan School of Public Health, Adams is one of 16 young leaders from across Canada appointed to the Your Energy Future program.
Participants in the year-long program, delivered in partnership by the Public Policy Forum and leadership development fellowship Action Canada, will become change-makers in Canada's energy agenda. They develop strategies to prepare Canadian people, communities and governments to successfully transition to a low-carbon, clean energy future.
Their recommendations will be presented to federal, provincial and territorial government policy-makers, leaders in the energy sector, and the Canadian public.
Travelling across Canada, learning about diverse energy sectors and visiting the communities most impacted by energy change, the group will meet with policy experts and community members, particularly young people, to gain their insights on energy, resources, and the implications of change.
Continue reading at University of Saskatchewan.
Photo via University of Saskatchewan.