New dust sources resulting from a shrinking Salton Sea have negative ecological and health impacts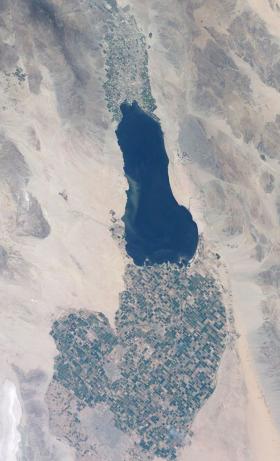 Scientists at the University of California, Riverside investigating the composition of particulate matter(PM) and its sources at the Salton Sea have found that this shrinking lake in Southern California is exposing large areas of dry lakebed, called playa, that are acting as new dust sources with the potential to impact human health.
"Playas have a high potential to act as dust sources because playa surfaces often lack vegetation," said Roya Bahreini, an associate professor of environmental sciences, who led the research project. "Dust emissions from playas increase airborne PM mass, which has been linked to cardiovascular disease, respiratory disease, and mortality."
Study results appeared recently in Environmental Science and Technology.
Bahreini's team set out to test whether emissions from playas change the composition of PM10 (particulate matter with diameters up to 10 microns) near the Salton Sea. The team assessed the composition of playa soils (recently submerged underneath the Salton Sea), desert soils (located farther from the sea), and PM10 collected during August 2015 and February 2016.
Read more at University of California - Riverside
Photo: The Salton Sea. Credit: NASA