Benefits of Advanced Wood-Burning Stoves Greater Than Thought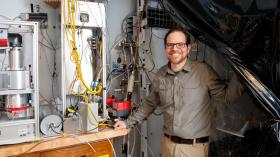 "Previous studies have looked solely at direct emissions from cookstoves," says Andrew Grieshop, an assistant professor of civil, construction and environmental engineering at NC State and corresponding author of a paper describing the work. "We've now done a series of experiments to determine what happens to those emissions while they are in the atmosphere."
At issue is particulate matter (PM): minute, airborne particles that can contribute to human health problems, such as asthma.
For this study, researchers tested three types of wood-burning stoves: traditional stoves; natural-draft stoves; and forced-draft stoves, which use battery-powered fans to improve combustion. The researchers collected emissions from each of the stoves and used an environmental chamber and a custom-built oxidation flow reactor to mimic the chemical reactions that would normally take place with the emissions over the course of up to two weeks in the atmosphere.
The researchers found that, while traditional stoves emitted an average of 6 grams of PM per kilogram of fuel burned (g/kg), that number jumps to an average of 14 g/kg when you include the PM that the emissions form over time, due to chemical reactions that take place in the atmosphere.
Continue reading at North Carolina State University
Image courtesy of NCSU.