Study finds that Choice of Cool Roofing Materials can Potentially Impact Region's Air Pollution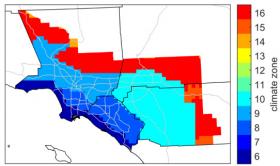 The study explains how the predicted increase in ozone levels can be minimized or possibly avoided by requiring more comprehensive performance standards for cool-roofing materials. However, small increases in fine particulate (PM2.5) levels are predicted to occur with or without enhanced standards.
"Cool roofs have many benefits including reduced energy use for cooling and mitigation of the significant health impacts of heat waves." said Wayne Nastri, SCAQMD's executive officer.
"While the future, widespread use of certain kinds of cool roofing materials could slightly increase air pollution levels, we in no way want to discourage this technology. This study shows what needs to be done to help cool our cities and avoid increasing ozone levels as an unintended consequence."
The study, titled "Air Quality Implications of Widespread Adoption of Cool Roofs on Ozone and Particulate Matter in Southern California," was published today in the Proceedings of the National Academy of Sciences.
The scientific paper was produced by a team of SCAQMD scientists led by Scott A. Epstein, Ph.D., in collaboration with George Ban-Weiss, Ph.D., a professor of civil and environmental engineering at USC. They used sophisticated meteorology and air quality computer models, measurements of cool roofing materials and detailed databases of the region's rooftops to predict the air quality impacts of the increasing use cool roof materials -- typically light-colored and highly reflective -- that are expected to result from current statewide energy efficiency standards.
Continue reading at South Coast Air Quality Management District
Image via Proceedings of the National Acadmey of Sciences of the USA