New Study Discovers "Killer Peptide" That Helps Eliminate Resistant Cancer Cells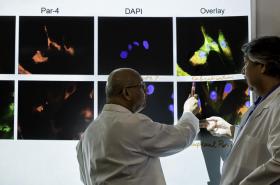 A new study by University of Kentucky Markey Cancer Center researchers shows that when therapy-sensitive cancer cells die, they release a "killer peptide" that can eliminate therapy-resistant cells.
Tumor relapse is a common problem following cancer treatment, because primary tumor cells often contain therapy-resistance cancer cells that continue to proliferate after the therapy-sensitive cells have been eliminated.
In the new study, published in Cancer Research, Markey scientists identified a Par-4 amino-terminal fragment (PAF) that is released by diverse therapy-sensitive cancer cells following therapy-induced cleavage of the tumor suppressor Par-4 protein. PAF caused death in cancer cells resistant to therapy and inhibited metastatic tumor growth in mice. Additionally, the PAF entered only cancer cells, not normal cells, keeping healthy tissue intact.
The findings indicate that this naturally generated PAF could potentially be harnessed to target neighboring or distant cancer cells to overcome metastasis and therapy resistance in tumors.
Read more at University of Kentucky
Image: UK's Vivek Rangnekar, left, and Ravshan Burikhanov. (Credit: University of Kentucky)