New genes discovered regulating brain metastases in lung cancer patients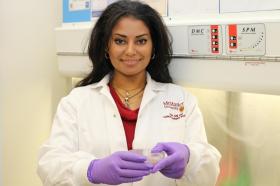 Research from McMaster University has identified new regulators of brain metastases in patients with lung cancer.
These regulators are the genes called SPOCK1 and TWIST2.
The discovery was made by researchers at the Stem Cell and Cancer Research Institute at McMaster University and was recently published in a paper in the journal Acta Neuropathologica.
"Brain metastases are a secondary brain tumour, which means they are caused by cancer cells that escape from primary tumours like lung, breast or melanoma, and travel to the brain," said Mohini Singh, the study's primary author and a PhD candidate in biochemistry at the Michael G. DeGroote School of Medicine at McMaster.
Read more at McMaster University
Image: Mohini Singh is a PhD candidate in biochemistry at the Michael G. DeGroote School of Medicine at McMaster University (Credit: McMaster University)