Annual Wind Power Report Confirms Technology Advancements, Improved Project Performance, and Low Wind Energy Prices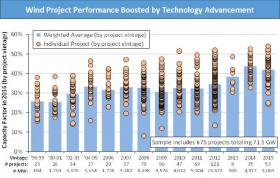 Wind energy pricing for land-based, utility-scale projects remains attractive to utility and commercial purchasers, according to an annual report released by the U.S. Department of Energy and prepared by the Lawrence Berkeley National Laboratory (Berkeley Lab). Prices offered by newly built wind projects in the United States are averaging around 2¢/kWh, driven lower by technology advancements and cost reductions.
"Wind energy prices—particularly in the central United States, and supported by federal tax incentives—are at all-time lows, with utilities and corporate buyers selecting wind as the low-cost option," said Berkeley Lab Senior Scientist Ryan Wiser.
Key findings from the U.S. Department of Energy's "Wind Technologies Market Report" include:
Wind power additions continued at a rapid clip in 2016. Nationwide, wind power capacity additions equaled 8,203 MW in 2016, with $13 billion invested in new plants. Wind power constituted 27% of all U.S. generation capacity additions in 2016. In 2016, wind energy contributed 5.6% of the nation's electricity supply, more than 10% of total electricity generation in fourteen states, and 29% to 37% in three of those states (Iowa, South Dakota, and Kansas)
Read more at DOE/Lawrence Berkeley National Laboratory
Image: Wind project performance boosted by technology advancement. (Credit: Berkeley Lab)