Canary in a coal mine: Survey captures global picture of air pollution's effects on birds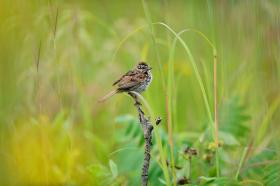 Famously, the use of caged birds to alert miners to the invisible dangers of gases such as carbon monoxide gave rise to the cautionary metaphor "canary in a coal mine."
But other than the fact that exposure to toxic gases in a confined space kills caged birds before affecting humans — providing a timely warning to miners — what do we know about the effects of air pollution on birds?
Not as much as you'd think, according to researchers from the University of Wisconsin–Madison.
"We know a lot about air pollution's effects on human health, and we know a lot about the impacts of air pollution across ecosystems," explains Tracey Holloway, a professor in UW–Madison's Nelson Institute for Environmental Studies. "We were surprised to discover how little we know about how air pollution affects birds."
Writing Aug. 11 in the journal Environmental Research Letters, Holloway, an expert on air quality, and her former graduate student Olivia Sanderfoot, sort through nearly 70 years of the scientific literature to assess the state of knowledge of how air pollution directly affects the health, well-being, reproductive success and diversity of birds. This work is part of Sanderfoot's ongoing National Science Foundation Graduate Research Fellowship.
Continue reading at University of Wisconsin–Madison
Photo: A sparrow perches on a branch in Curtis Prairie at the UW Arboretum. The efficiency of birds' respiratory systems is thought to make them more vulnerable to pollutants in the air.
Credit: Jeff Miller