NASA's Sees a Tightly Wound Typhoon Banyan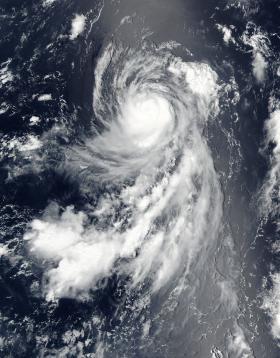 Satellite imagery from NASA-NOAA's Suomi NPP satellite showed powerful storms tightly would around Typhoon Banyan's center as it moved through the Pacific Ocean.
On Aug. 14 at 02:06 UTC (Aug. 13 at 10:06 p.m. EDT) the Visible Infrared Imaging Radiometer Suite (VIIRS) instrument aboard NASA-NOAA's Suomi NPP satellite provided a visible look at Banyan. The visible image showed a tight concentration of strong thunderstorms around the center of circulation, but no eye was visible. However, microwave satellite imagery did reveal an eye.
Banyan formed from Tropical Depression 14W. It was named tropical storm Banyan on August 11 at 5 p.m. EDT (2100 UTC). Banyan became a typhoon on August 12 at 5 p.m. EDT (2100 UTC) and has maintained that status.
Continue reading at NASA / Goddard Space Flight Center
Image: On Aug. 14 at 02:06 UTC (Aug. 13 at 10:06 p.m. EDT) NASA-NOAA's Suomi NPP satellite provided this visible image of Typhoon Banyan (14W) in the central Pacific Ocean. Credits: NOAA / NASA Goddard MODIS Rapid Response Team