Navigation and spatial memory — brain region newly identified to be involved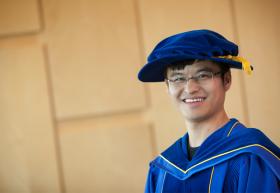 Research conducted in a collaboration between Drs. Dun Mao, a researcher in Dr. Bruce McNaughton's lab at the Canadian Centre for Behavioural Neuroscience at the University of Lethbridge, and Steffen Kandler, a researcher in Professor Vincent Bonin's lab at Neuro-Electronics Research Flanders (NERF) in Belgium, has found neural activity patterns that may assist with spatial memory and navigation.
Their study, Sparse orthogonal population representation of spatial context in the retrosplenial cortex, has been published in Nature Communications.
"Previously, we knew little about how spatial information is encoded in large neuronal populations outside of the hippocampal formation," says Mao (PhD '17), who's now a postdoctoral fellow at Baylor College of Medicine in Houston, Texas. "Now we have revealed that the retrosplenial cortex, which is highly connected with the hippocampus, encodes spatial signals in a way similar to the hippocampus. These results will help us understand how the hippocampus and neocortex interact to support spatial navigation and memory."
Continue reading at University of Lethbridge.
Photo via University of Lethbridge.