Climate Change and Habitat Conversion Combine to Homogenize Nature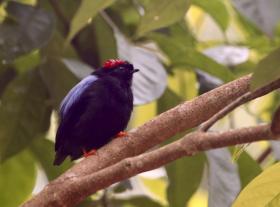 Climate change and habitat conversion to agriculture are working together to homogenize nature, indicates a study in the journal Global Change Biology led by the University of California, Davis.
In other words, the more things change, the more they are the same.
While the individual impacts of climate change and habitat conversion on wildlife are well-recognized, little is known about how species respond to both stressors at once.
In northwest Costa Rica, the study's authors surveyed birds and plants at 120 sites that included rainforests, dry forests and farmland to determine how habitat conversion and climate-change-induced droughts affect tropical wildlife. They found that different bird species thrive in drier versus wetter areas of forests. In farmlands however, birds associated with dry sites were found everywhere, even in the wettest sites.
Read more at University of California - Davis
Image: The long-tailed manakin in Costa Rica prefers wet forest habitat. It is vulnerable to the combined impacts of climate change and habitat conversion. (Credit: Daniel Karp / UC Davis)