Data mining finds more than expected beneath Andean Plateau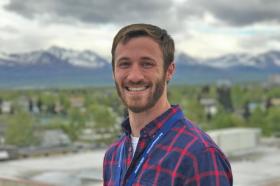 Seismologists investigating how Earth forms new continental crust have compiled more than 20 years of seismic data from a wide swath of South America's Andean Plateau and determined that processes there have produced far more continental rock than previously believed.
"When crust from an oceanic tectonic plate plunges beneath a continental tectonic plate, as it does beneath the Andean Plateau, it brings water with it and partially melts the mantle, the layer below Earth's crust," said Rice University's Jonathan Delph, co-author of the new study published online this week in Scientific Reports. "The less dense melt rises, and one of two things happens: It either stalls in the crust to crystallize in formations called plutons or reaches the surface through volcanic eruptions."
Delph, a Wiess Postdoctoral Research Associate in Rice's Department of Earth, Environmental and Planetary Science, said the findings suggest that mountain-forming regions like the Andean Plateau, which geologists refer to as "orogenic plateaus," could produce much larger volumes of continental rock in less time than previously believed.
Study lead author Kevin Ward, a postdoctoral researcher at the University of Utah, said, "When we compared the amount of trapped plutonic rock beneath the plateau with the amount of erupted volcanic rock at the surface, we found the ratio was almost 30:1. That means 30 times more melt gets stuck in the crust than is erupted, which is about six times higher than what's generally believed to be the average. That's a tremendous amount of new material that has been added to the crust over a relatively short time period."
Read more at Rice University
Image: Jonathan Delph (Credit: Kevin Ward)