Caffeine tempers taste, triggering temptation for sweets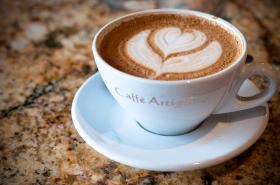 Caffeine, the widely consumed stimulant and igniter of sluggish mornings, has been found to temper taste buds temporarily, making food and drink seem less sweet, according to new Cornell University research.
Caffeine is a powerful antagonist of adenosine receptors, which promote relaxation and sleepiness. Suppressing the receptors awakens people but decreases their ability to taste sweetness – which, ironically, may make them desire it more.
The research demonstrates taste modulation in the real world, said senior author Robin Dando, assistant professor of food science: "When you drink caffeinated coffee, it will change how you perceive taste – for however long that effect lasts. So if you eat food directly after drinking a caffeinated coffee or other caffeinated drinks, you will likely perceive food differently."
Dando, along with lead authors Ezen Choo and Benjamin Picket published, "Caffeine May Reduce Perceived Sweet Taste in Humans, Supporting Evidence That Adenosine Receptors Modulate Taste," in the Journal of Food Science.
Read more at Cornell University
Photo credit: Kenny Louie via Wikimedia Commons