Satellite Eyes Tropical Storm Irma Swirling in Eastern Atlantic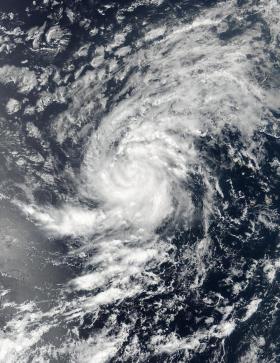 NASA-NOAA's Suomi NPP satellite passed over Tropical Storm Irma in the eastern Atlantic Ocean and captured a visible image of the storm on the move.
Since Irma developed on Aug. 30 at 11 a.m. EDT it has been steadily strengthening. Just 24 hours later, the National Hurricane Center noted that the storm was approaching hurricane strength.
On Aug. 30 at 11:36 a.m. EDT (1536 UTC) the Visible Infrared Imaging Radiometer Suite (VIIRS) instrument aboard Suomi NPP satellite captured a visible image of Irma that showed many curved bands of thunderstorms around the center. Bands of thunderstorms were wrapping into Irma's low level center from the west and south.
At 5 a.m. EDT (0900 UTC) on Aug. 31 the center of Tropical Storm Irma was located near 16.5 degrees north latitude and 32.9 degrees west longitude. Irma is far from land areas. It's about 590 miles (950 km) west of the Cabo Verde Islands.
Read more at NASA/Goddard Space Flight Center
Image: On Aug. 30 at 11:36 a.m. EDT (1536 UTC) NASA-NOAA's Suomi NPP satellite captured a visible image of Tropical Storm Irma in the Eastern Atlantic Ocean. (Credit: NASA/NOAA, Goddard Rapid Response Team)