NASA Sees Typhoon Sanvu's Large Eye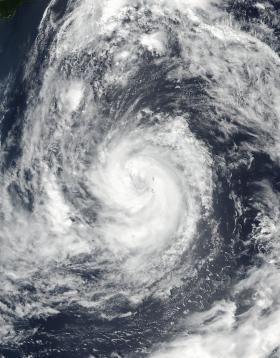 Typhoon Sanvu developed an eye that was about 28 nautical-miles wide when NASA-NOAA's Suomi NPP satellite passed overhead and captured an image.
On Aug. 31, the Visible Infrared Imaging Radiometer Suite (VIIRS) instrument aboard Suomi NPP satellite captured a visible image of Typhoon Sanvu as it continued strengthening and moving north in the Northwestern Pacific Ocean, near the island of Chichi Jima, Japan. The island was formerly known as Peel Island and it has a population of about 2,000 people.
On Aug. 31 at 11 a.m. EDT (1500 UTC) the Joint Typhoon Warning Center (JTWC) noted that Sanvu had maximum sustained winds near 86 mph (75 knots /140 kph).
Read more at NASA/Goddard Space Flight Center
Image: On Aug. 31 NASA-NOAA's Suomi NPP satellite captured a visible image of Typhoon Sanvu in the Northwestern Pacific Ocean. (Credit: NASA/NOAA, Goddard Rapid Response Team)