Researchers develop technique to reuse carbon dioxide and methane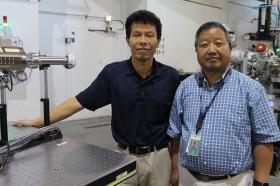 CO2 and methane are the most significant greenhouse gases resulting from human activity, said Hui Wang, professor in the Department of Chemical and Biological Engineering at the University of Saskatchewan.
Capturing CO2 and methane emissions from industrial sources and reusing them could reduce the threat on the world's ecosystem by slowing climate change, said Wang, the principal researcher of a paper published in Catalyst Today.
CO2 and methane can be triggered to undergo chemical reactions with each other to create synthesis gas or syngas. Syngas is a mixture of carbon monoxide and hydrogen, which can be used to synthesize a variety of liquid fuels or ammonia.
This reaction between CO2 and methane, also called 'dry reforming of methane,' has not been fully scaled-up for commercial use due to lack of an inexpensive and industrially viable catalyst. Catalysts are used to speed up chemical reactions.
Continue reading at University of Saskatchewan.
Photo via University of Saskatchewan.