NASA Sees Irma Strengthen to a Category 5 Hurricane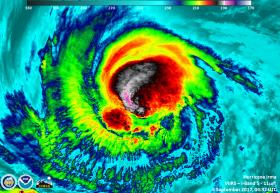 NASA and NOAA satellites have been providing valuable satellite imagery to forecasters at the National Hurricane Center, and revealed that Hurricane Irma has strengthened to a Category 5 hurricane on Sept. 5 around 8 a.m. EDT (1200 UTC).
On Sept. 4 at (1:24 p.m. EDT) 17:24 UTC, NASA-NOAA's Suomi NPP satellite captured this view of Hurricane Irma as a Category 4 hurricane approaching the Leeward Islands. The VIIRS instrument on the Suomi NPP satellite flew over Hurricane Irma on Sept. 4 at 04:32 UTC (12:32 a.m. EDT) when it was a Category 3 hurricane. VIIRS infrared data revealed very cold, very high, powerful thunderstorms on Irma's western side. Cloud top temperatures in that area were near minus 117.7 degrees Fahrenheit or minus 83.5 degrees Celsius. Storms with cloud tops that cold have the capability to generate very heavy rainfall.
An animation of NOAA's GOES East satellite imagery from Sept. 2 at 7:45 a.m. EDT (1145 UTC) to Sept. 5 ending at 7:15 a.m. CDT (1115 UTC) tracked Irma's movements and change in intensity. Over the couse of the three days, Hurricane Irma moved west toward the Leeward Islands and strengthened from a Category 3 to a Category 5 storm on Sept. 5.
Continue reading at NASA / Goddard Space Flight Center
Image: The VIIRS instrument on the Suomi NPP satellite flew over Category 3 Hurricane Irma at approximately on Sept. 4 at 04:32 UTC (12:32 a.m. EDT). Cloud top temperatures were near -117.7F/-83.5C in the western quadrant. Credits: UWM / SSEC / CIMSS, William Straka III