Engineers develop tools to share power from renewable energy sources during outages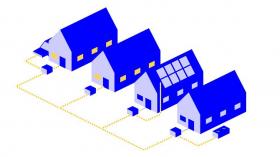 If you think you can use the solar panels on your roof to power your home during an outage, think again. During an outage, while your home remains connected to the grid, the devices that manage your solar panels are powered down for safety reasons. In other words, this permanent connection to the grid makes it impossible for homeowners to draw on power generated by their own renewable energy resources.
A team of engineers at the University of California San Diego wants to change this. They have developed algorithms that would allow homes to use and share power from their renewable energy sources during outages by strategically disconnecting these devices, called solar inverters, from the grid. The algorithms work with existing technology and would improve systems' reliability by 25 to 35 percent. Researchers detail the algorithms and their applications in a paper they presented at the American Control Conference in Seattle, Wash.
"We were inspired to start investigating a way to use renewable power during outages after Hurricane Sandy affected eight million people on the East Coast and left some without power for up to two weeks," said Abdulelah H. Habib, a Ph.D. candidate in mechanical engineering at UC San Diego and the paper's first author.
Just a few hours without power can cause massive losses to both product and revenue. Every year, 7 million customers experience power outages. Outages that last more than 5 to 10 minutes cost customers more than $80 billion each year.
Continue reading at University of California - San Diego
Image: Researchers have developed an algorithm that allows residential customers to share power from the renewable energy sources in their homes during an outage. Credit: University of California - San Diego