Increasing Effective Decision-Making for Coastal Marine Ecosystems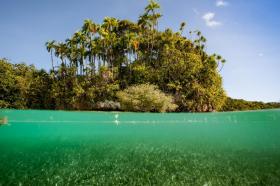 Marine restoration, rather than protection, might be the most cost-effective solution for coastal marine ecosystems suffering from human activities, a new study has found.
The University of Queensland and the Australian Research Council Centre for Excellence in Environmental Decisions study examined how to best benefit coastal marine ecosystems on limited conservation budgets, to help managers better understand the trade-offs.
UQ Development Fellow Dr Megan Saunders said the researchers developed a model comparing scenarios of restoration versus protection, on land, or in the sea, for coastal marine ecosystems.
"Coastal ecosystems like seagrass, coral and mangroves occupy the narrow fringe of sea between the land and the deep ocean," Dr Saunders said.
Read more at University of Queensland
Image: Increasing effective decision-making for coastal marine ecosystems. (Credit: Mark Priest)