UCI, JPL Investigators Find Direct Evidence of Sea Level 'Fingerprints'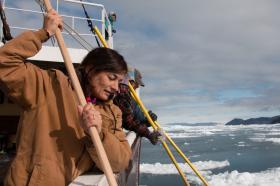 Researchers from the University of California, Irvine and NASA's Jet Propulsion Laboratory have reported the first observation of sea level "fingerprints," tell-tale differences in sea level rise around the world in response to changes in continental water and ice sheet mass. The team's findings were published today in the American Geophysical Union journal Geophysical Research Letters.
"Scientists have a solid understanding of the physics of sea level fingerprints, but we've never had a direct detection of the phenomenon until now," said co-author Isabella Velicogna, UCI professor of Earth system science and JPL research scientist.
As ice sheets and glaciers undergo climate-related melting, they alter Earth's gravity field, which causes nonuniform sea level change. Certain regions, particularly in the middle latitudes, are harder hit. For instance, Antarctica-generated sea level rise in California and Florida is as much as 52 percent greater than what's average in the rest of the world.
Read more at University of California - Irvine
Image: "Scientists have a solid understanding of the physics of sea level fingerprints, but we've never had a direct detection of the phenomenon until now," says study co-author Isabella Velicogna, a UCI professor of Earth system science and Jet Propulsion Laboratory research scientist, shown here on an expedition to Greenland. (Credit: Maria Stenzel / For UCI)