Satellites Show Hurricane Katia Not Moving Much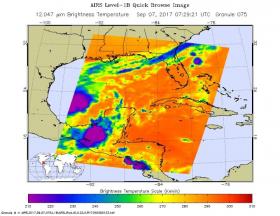 Satellite imagery from NASA's Terra and Aqua satellites showed that Hurricane Katia had not moved much, just about 30 miles in 16 hours.
On Sept. 6 at 3:25 p.m. EDT (1925 UTC) the Moderate Resolution Imaging Spectroradiometer or MODIS instrument aboard NASA's Terra satellite captured a visible-light image of Katia in the southwestern Gulf of Mexico. The image showed powerful bands of thunderstorms around the center of circulation. The western quadrant of the storm was over the east coast state of Veracruz, Mexico. At the time, the center of Katia was about 185 miles (295 km) east of Tampico, Mexico.
?Katia strengthened into a hurricane on Sept. 6 at 4 p.m. CDT (5 p.m. EDT).
On Sept. 7, the National Hurricane Center (NHC) said a Hurricane Warning is in effect for Cabo Rojo to Laguna Verde, and a Tropical Storm Warning is in effect from north of Cabo Rojo to Rio Panuco and south of Laguna Verde to Puerto Veracruz.
Read more at NASA/Goddard Space Flight Center
Image: NASA's Aqua satellite captured infrared temperature data on the eastern side of Hurricane Katia on Sept. 7 at 3:29 a.m. EDT (0729 UTC). The image showed some very cold cloud top temperatures as cold as minus 63 degrees Fahrenheit (minus 53 degrees Celsius). (Credit: NASA JPL/Ed Olsen)