Satellites Show Hurricane Katia Crawling to the Mexico Coast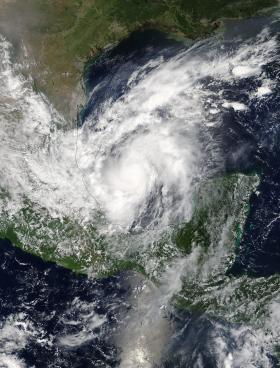 Two days of satellite imagery from NASA's Terra and NOAA's GOES East satellites showed that Hurricane Katia was starting to crawl to the coast of southeastern Mexico.
On Sept. 7 at 1 p.m. EDT (1700 UTC) the Moderate Resolution Imaging Spectroradiometer or MODIS instrument aboard NASA's Terra satellite captured a visible-light image of Hurricane Katia in the southwestern Gulf of Mexico. The image showed powerful bands of thunderstorms around the center of circulation but the storm's eye was not visible. The western quadrant of the storm was over the east coast state of Veracruz, Mexico.
There is the indication of an eye in a visible light image from NOAA's GOES East satellite on Sept. 8 at 9:15 a.m. EDT (1315 UTC).
Continue reading at NASA / Goddard Space Flight Center
Image: On Sept. 7 at 1 p.m. EDT (1700 UTC) the Moderate Resolution Imaging Spectroradiometer or MODIS instrument aboard NASA's Terra satellite captured a visible-light image of Hurricane Katia in the southwestern Gulf of Mexico. Credits: NASA Goddard MODIS Rapid Response Team