How Liver Cancer Develops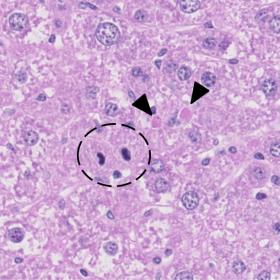 Liver cancer is the second-leading cause of cancer-related death and represents the fastest rising cancer worldwide. In most cases, the tumor develops in patients with chronic liver disease. Such diseases include chronic infections with hepatitis viruses or a so-called fatty liver due to nutritional or genetically caused lipometabolic disorders or an excessive consumption of alcohol.
An international team of researchers headed up by UZH Professor Achim Weber from the Institute of Pathology and Molecular Pathology of the University Hospital Zurich and Mathias Heikenwälder, professor at the German Cancer Research Center in Heidelberg, Germany, has discovered a major mechanism in the development of liver cancer. One of the main players in this process is enzyme caspase-8, which assumes an important dual role.
Short-term protection at the price of long-term development of cancer
This protein is therefore jointly responsible for triggering programmed cell death, apoptosis, in diseased liver cells. If the liver is permanently damaged, increased activation of cell death in hepatocytes occurs first, as the scientists demonstrated using patient samples and various mouse models. In reaction, the liver cells divide faster to regenerate the tissue. This causes lasting stress: Over a period of years, damaged liver cells die off and new ones grow in their place.
Read more at University of Zurich
Image: Microscopic image of a mouse liver (a model system for chronic liver diseases): liver cells dying by apoptosis (arrowheads) and dividing cells (within circle) regenerating the tissue. (Credit: USZ)