Stanford researchers study the relationship between nectar microbiomes and pollination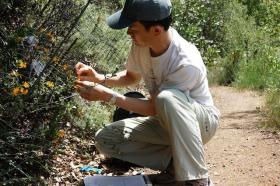 Dipping its beak into the sweet nectar of a flower, a hummingbird is doing more than getting a meal – it's contributing to a microbial community that could potentially determine the fate of that flower. Recognizing that this fleeting interaction could have major implications on crop success and the health of pollinator species, the research group led by Tadashi Fukami, an associate professor of biology at Stanford, has studied the relationships between pollinators, microbes and plants for nearly a decade.
"Pollination is an important ecosystem service for people," said Fukami. "Microbes could be one of the missing pieces that we have to think about in order to understand more about pollination and what more we can do to make it efficient."
When Fukami came to Stanford in 2008, he was tasked with developing a new field biology class that would fit with other courses in the department focused on the study of yeast. Hoping to unite his research on ecological communities with his teaching, Fukami asked staff scientist Nona Chiariello where yeast might be present in the university's 1,198-acre Jasper Ridge Biological Preserve, and she suggested flowers.
Continue reading at Stanford University
Image: Fukami, associate professor of biology at Stanford, places an identification tag on a flower. After several days, these flowers are removed from the plants for microbial and chemical analysis of their nectar. Some flowers are covered by a white fine mesh bag that prevents hummingbirds and bees from entering and others are placed in a cage that prevents only hummingbirds from entering. These coverings are used to study how flower-visiting hummingbirds and bees affects the development of microbial communities in floral nectar.
Image credit: Anne Rosenthal