Forest Regeneration Project of 30 Years Yields Results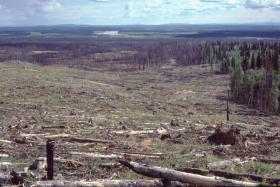 A spruce forest regeneration experiment in Interior Alaska that spanned nearly 30 years demonstrates which forest management practices produce the best results.
The experiment, launched by three Fairbanks scientists, looked at different combinations of ground treatments to reduce competition from other vegetation and of regeneration methods, such as planting spruce seedlings and broadcast seeding.

The results, published Aug. 19 in the journal Forest Ecology and Management, showed that planting white spruce seedlings is the best way to produce a spruce-dominated stand after 28 years. Broadcast seeding was the next most effective method. The two options were the most expensive among those tested.
University of Alaska Fairbanks forest ecologist Glenn Juday, who helped establish the experiment in the mid-1980s and is a co-author on the paper, said the recent research shows the environmental and management situations in which different techniques work best and the situations in which they are unnecessary or even counterproductive.
Read more at University of Alaska Fairbanks
Image: Looking southeast, this photo shows part of regeneration treatment research area in the Bonanza Creek Experimental Forest in 1986, one year after the treatment and three years after the area was burned in the Rosie Creek Fire. (Credit: Roseann Densmore)