Cancer Survivors Who Quit Smoking Sooner Can Live Longer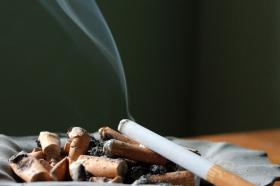 Lung cancer survivors who quit smoking within a year of diagnosis will live for longer than those who continue to smoke, according to new research led by the Universities of Oxford and Birmingham.
The findings also revealed that general practitioners are comparatively less likely to intervene and offer stop-smoking support to cancer patients, than they are to people diagnosed with coronary heart disease. This juxtaposition has resulted in lower quit rates among cancer patients.
The study, conducted in collaboration with the University of Nottingham and funded by the NIHR School for Primary Care Research, calls for better support for cancer patients who need help to quit smoking in the first year following diagnosis.
While just over a third of lung cancer patients were smoking at diagnosis, those who stopped smoking and survived their treatment lived on average for 1.97 years, compared with 1.08 years for those who did not quit smoking after diagnosis, finds the study published in British Journal of Cancer.
Read more at University of Oxford
Photo credit: Myriams-Fotos via Pixabay