NASA Sees Hurricane Max Make Landfall and Weaken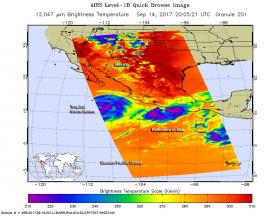 NASA's Aqua satellite captured in infrared-light image of Hurricane Max that showed the storm weakened quickly as it made landfall in southwestern Mexico. Max quickly degenerated into a large area of low pressure.
The Atmospheric Infrared or AIRS instrument aboard NASA's Aqua satellite captured infrared data on Max on Sept. 14 at 4:05 p.m. EDT (2005 UTC). At the time of the image Max's center appeared to be moving onshore to the east of Acapulco, and the eye that was observed in satellite imagery had disappeared.
The AIRS data showed that the coldest cloud tops were colder than minus 63 degrees Fahrenheit (minus 53 degrees Celsius). Those storms were found around the center of circulation and over the coast of Mexico's Guerrero state.
Continue reading at NASA / Goddard Space Flight Center
Image: The AIRS instrument aboard NASA's Aqua satellite captured infrared data on Typhoon Max on Sept. 14 at 4:05 p.m. EDT (2005 UTC). Strongest storms appear in purple and were over the southwestern Mexican coast. Credits: NASA JPL, Ed Olsen