Stanford researchers team up to reduce pollution and improve health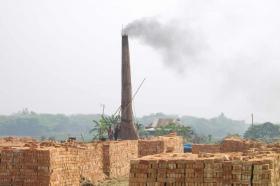 Stephen Luby's epiphany came to him 30,000 feet up in the air. The Stanford epidemiologist was flying over India when he realized the view from his window seat was adequate to identify brick kilns on the ground below. The insight was startling for its potential to shed light on an environmental nightmare that kills thousands of people every year.
Luby, a professor of medicine, and a team of Stanford researchers including political scientist Francis Fukuyama and geophysicist Howard Zebker are following up on Luby's insight to revolutionize brickmaking in South Asia, an industry that burns coal, biomass and even tires to dry hand-molded clay into the ubiquitous building material. Brick kilns across South Asia have a global warming impact equivalent to that of all passenger cars in the U.S., and air pollution from these kilns kills tens of thousands of people each year as a result of respiratory and cardiovascular disease, according to Luby.
Continue reading at Stanford University
Image: Bricks dry outside a kiln in Bangladesh. (Image credit: Faizul Latif Chowdhury / Wikimedia Commons)