NOAA teams with Paul G. Allen Philanthropies to expand deep ocean observations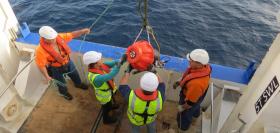 In a groundbreaking public-private partnership, Microsoft co-founder and philanthropist Paul G. Allen and NOAA's Pacific Marine Environmental Laboratory will deploy a large array of new deep ocean floats to expand ocean observations in a key area of the western South Atlantic Ocean.
These instruments, called Deep Argo floats, can collect data down to nearly four miles deep, and promise to lead scientists to a better understanding of how the bottom half of the ocean may influence long term weather, climate, and sea level rise.
Paul G. Allen Philanthropies has committed more than $4 million for the multi-year project, Jump-Starting Deep Argo. Allen's research vessel R/V Petrel will deploy an array of these floats in the deep international waters east of Brazil.
"This is NOAA's first formal public-private partnership for sustained ocean observations," said acting NOAA Chief Scientist Craig McLean. "We applaud Paul Allen for his visionary investment in long term knowledge to help answer some of Earth's most challenging questions."
Continue reading at NOAA.
Photo via NOAA.