Small-scale fisheries have big impact on oceans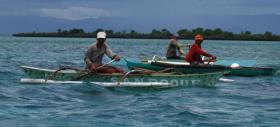 A new UBC study has found that small-scale fisheries may have a much larger impact on ocean ecosystems than previously thought, due to a lack of data on their development over time.
"We found that the influence from small-scale fisheries is far from small," said Jennifer Selgrath, lead author who completed the research as a PhD student with UBC's Institute for the Oceans and Fisheries and Project Seahorse. "In our case study in the Philippines, we found that the fisheries have become unsustainable because there are so many people trying to catch a limited number of fish and invertebrates."
While the impact of large, industrial fisheries have been closely monitored in recent decades, small-scale fisheries that provide food and livelihood to coastal communities, particularly in the developing world, haven't been monitored in the same way. Fisheries experts estimate that small-scale fisheries remove approximately 30 per cent of global catches or 22 million tonnes of marine life every year, providing a critical source of protein for millions of people worldwide.
In this study, researchers at the Institute for the Oceans and Fisheries at UBC worked with local fishing communities in the Danajon Bank in the central Philippines to map the growth of small-scale fisheries and their impact on the ocean ecosystem between 1960 and 2010. The Danajon Bank is home to a unique double barrier reef, making it one of the richest areas of marine biodiversity in the world.
Continue reading at University of British Columbia (UBC).
Photo via University of British Columbia (UBC).