NASA Identifies Wind Shear Affecting Tropical Depression Lee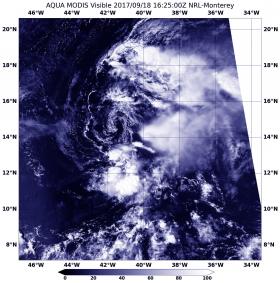 Visible imagery from NASA's Aqua satellite showed Tropical Depression Lee as a weak swirl of clouds around its center with most of its clouds and thunderstorms pushed east of its center.
On Sept. 18 at 1225 p.m. EDT (1625 UTC) the Moderate Resolution Imaging Spectroradiometer or MODIS instrument aboard NASA's Aqua satellite provided an visible image of Tropical Depression Lee. Those thunderstorms east of the center developed during the morning hours and were pushed east of the center from strong westerly to northwesterly vertical wind shear.
The National Hurricane Center discussion noted "After being nearly devoid of thunderstorm activity overnight, a burst of deep convection has developed near and to the east of the center this morning."
Continue reading at NASA / Goddard Space Flight Center
Image: On Sept. 18 at 1225 p.m. EDT (1625 UTC) MODIS instrument aboard NASA's Aqua satellite provided this visible image of Tropical Depression Lee that showed wind shear was pushing its clouds east of the center. Credits: NASA / NRL